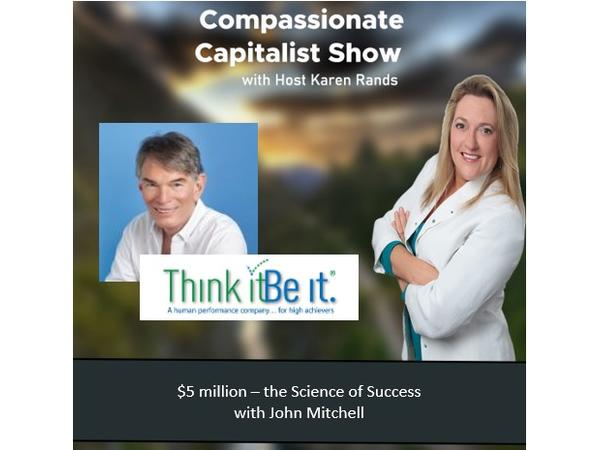 Enjoy The Episode? Leave Us A Review Below (47:01)
Think It, Be It Founder, John Mitchell, joins Karen Rands on The Compassionate Capitalist Show to share the Science of Success.  Feeling stuck, John used tried and true, but often overlooked, methods to figure out his personal breakthrough to go from earning a few hundred thousand a year to growing his own business to $5M in Revenue, and a big windfall when he sold it at a $25M valuation. John discovered the disconnect between his efforts and the results that had been holding him back – the beliefs locked into his unconscious mind.
John shares with Karen how he used science to amplify his (and our) innate ability to succeed when we apply science to align our conscious goals and objectives with the 'auto-pilot' manifestations of desires and action by our sub-conscious mind.
John Mitchell's 12 min a day program takes the principals of the famed Think & Grow Rich book by Napoleon Hill, and puts them into an actionable and relevant framework to chart your way to your ideal life of health, happiness and prosperity.  What a great way to start off the YEAR!!
John's team has created a special opportunity to complete a short assessment and schedule a free consultation call with him. You can also download his proprietary "thinking tablet guide", and more….
Get your gift here:  https://thinkitbeit.com/cc/
Watch this episode on youtube:  https://youtu.be/ubJ3yH3ucNk
Karen Rands, is the leader of the Compassionate Capitalist Movement and author of the best selling financial investment primer: Inside Secrets to Angel Investing:  Step-by-Step Strategies to Leverage Private Equity Investment for Passive Wealth Creation.
Did you know that the 'idea of' and the 'how to' create wealth as accredited angel investors by investing in entrepreneurs and owning a piece of multiple private companies was a secret for non-millionaires for over 90 years.  Karen is an authority on creating wealth through investing and building successful businesses that can scale and exit rich.   This podcast is the infomercial for the idea of angel / crowdfund investors as Compassionate Capitalists.
The Compassionate Capitalist Wealth Maximizer System is now available for those investors that want to learn how to invest in entrepreneurs as an asset class like real estate or the stock market. Visit http://Kugarand.com to get your free gift: 12 Inside Secrets to Innovation and Wealth and join the email wait list for the next Free Intro – Wealth Mastery Immersion Challenge 
Already investing? Learn how to hire Kugarand Capital Holdings to identify the red flags of deal before you invest, or find out how to help syndicate your capital raise.
Register at http://DoTheDeal.org
Other Links:  Book, Social Media, Other Podcast Players, Youtube Channel
Visit https://bit.ly/linkCCS