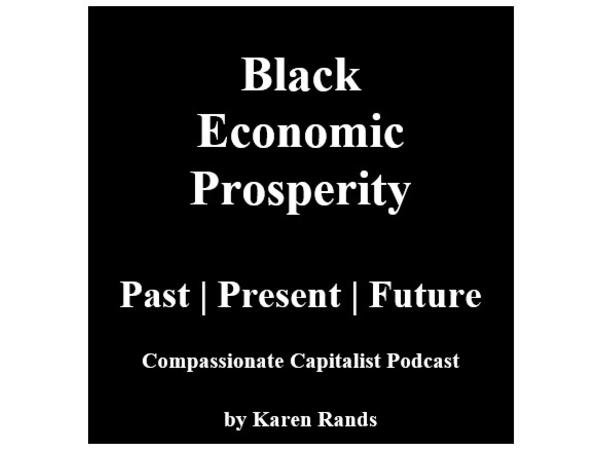 Enjoy The Episode? Leave Us A Review Below (01:07:37)
True equality comes with economic prosperity. This is a replay of Karen's historic, informative, and popular look at The Black Lives Economic Story – Past Present & Future PT 1.
The Compassionate Capitalist Podcast will explore the history of black enterprise, and government policies intended to aid in economic prosperity, and the racist practices that created barriers and obstacles to African American prosperity so that wealth and education gap which exists today has its roots dating back to the late 1800.  History shows time and time again how naïve, well intentioned white people, in the spirit of compromise, released authority and control to other white people that had a sole intent to harm and hinder black people from achieving equality – socially and economically. There are many examples of progress being made and initiatives seeking to grow black entrepreneurship, wealth creation, and reinvestment into the communities that have been neglected and abandoned.   As we look forward with these new sources of funding and entrepreneur development, we must also look back to see how to fix the fissure that over a 100 years of systemic racism has caused in our communities.  If you are opposed to giving hand outs, then give a hand up.  Work to get the loopholes that enable racists to harm and prevent the success and empowerment of people of color out of our financial, judicial, and legislative systems.
Visit the full blog post to get all the links: http://bit.ly/CCR-BLM1
Listen to Part 2 with Links for Black Founder's access to Capital at: http://bit.ly/CCR-BLM2
Watch Part 2 as a video: https://youtu.be/52Ta1wH_Ch8
Karen Rands offers coaching programs for entrepreneurs seeking to prepare to raise capital and strategies to obtain capital and connect with investors. Visit: http://karenrands.co
Karen believes that teaching the inside secrets of angel / crowdfunding investing can be the foundation for bridging the capital wealth gap for generations to come.
Karen Rands, is the leader of the Compassionate Capitalist Movement and author of the best selling financial investment primer: Inside Secrets to Angel Investing:  Step-by-Step Strategies to Leverage Private Equity Investment for Passive Wealth Creation.
Did you know that the 'idea of' and the 'how to' create wealth as accredited angel investors by investing in entrepreneurs and owning a piece of multiple private companies was a secret for non-millionaires for over 90 years.  Karen is an authority on creating wealth through investing and building successful businesses that can scale and exit rich.   This podcast is the infomercial for the idea of angel / crowdfund investors as Compassionate Capitalists.
The Compassionate Capitalist Wealth Maximizer System is now available for those investors that want to learn how to invest in entrepreneurs as an asset class like real estate or the stock market. Visit http://Kugarand.com to get your free gift: 12 Inside Secrets to Innovation and Wealth and join the email wait list for the next Free Intro – Wealth Mastery Immersion Challenge
Register at http://DotheDeal.org
Already investing? Learn how to hire Kugarand Capital Holdings to identify the red flags of deal before you invest, or find out how to help syndicate your capital raise.
Other Links:  Book, Social Media, Other Podcast Players, Youtube Channel
Visit https://bit.ly/linkCCS