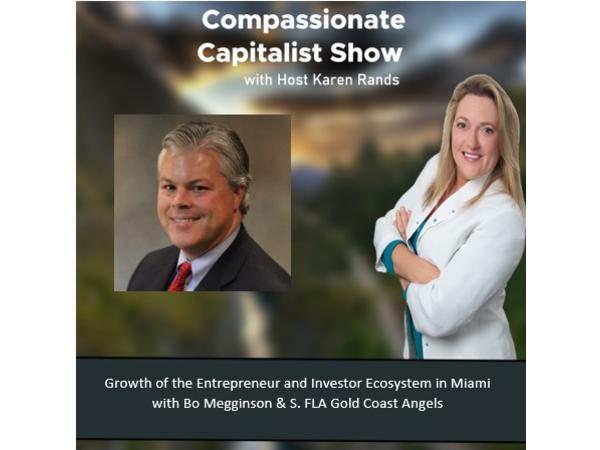 Bo Megginson, Managing Partner for the Gold Coast Angel Investors, joins Karen Rands again to share exciting news about the growth in the entrepreneur and investor ecosystem in South Florida. In 2 years since inception, and amidst the black swan of a worldwide pandemic, Gold Coast Angel Investors has invested in 7 companies in multiple industries: IT-enabled healthcare, artificial intelligence, automotive tech, pet products and industrial services.  Bo explains the impact the exodus of investors and entrepreneurs from the NE and Westcoast to the greater Miami area has benefited GCAI with greater access to capital and market intelligence.  Bo & Karen also discuss the diversity of South Florida and how that is a strength in their access to quality deal flow and access to capital to grow the entrepreneur community. 
For more information https://goldcoastangels.vc/
Karen Rands is a top podcaster and speaker focused on creating wealth through building and investing in successful entrepreneur endeavors.  She wrote the best selling primer for Angel Investors:  Inside Secrets to Angel Investing and is working on her next book for CEO & Founders that are 'stuck' and don't know where to get the money to scale their businesses. Her firms provide Capital Strategy, Investor Readiness and Due Diligence, and Investor Relations Services. 
To learn more about the programs and services that Karen and her team offer to entrepreneurs and investors, visit http://karenrands.co 
PLATFORMS:
Apple Podcast: http://bit.ly/KYR-Itunes
TUNEIn: http://bit.ly/KYR-tunein
Stitcher: http://bit.ly/KYR-Stitcher
Google Podcast: bit.ly/KYR-GooglePod
Youtube:  https://youtu.be/hqITBRKkbiw
Listen to this Podcast Now (00:24:00)