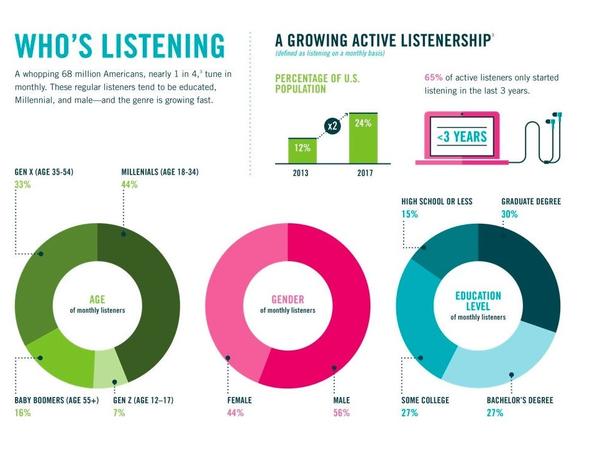 Karen Rands has been podcasting since 2009.  Her content is similar now to then, but more focused.   Her purpose in the podcast was micro focused vs macro focused as it is today.   She taped this brief podcast to keep consistent with her weekly broadcast commitment, but to also come live from the Podcast Movement convention on the first day.   Although she has been podcasting longer than many of the people at the convention, her message has not been amplified.   She is learning the pros and cons of being in a niche industry.   She has chosen to keep her podcast real and unpredictable as a live show that what it lacks in sound quality makes up in authenticity.   She is at #PM19 to learn how to use this medium to amplify her message of Compassionate Capitalism.   
She shares stats on the state of the industry that may have had 5% listening when she started is now at 24% of the American population.   The audience is young, with greatest segment of 77% ages 18-54, college educated, 65% of which only started listening to a podcast on a monthly basis in the last 3 years.   
Listen to other episodes to understand more about the Concept of Compassionate Capitalism. Then please share it with someone else you think might be interested.   Comment, Like, and Share...
Learn about angel investing and get more info about the best selling book... get 12 of the 44 secrets free at http://InsideSecretstoAngelInvesting.com  And look at a chapter.   Order from Amazon at http://bit.ly/AngelInsideSecrets
You can help Karen spread this message of economic development, financial independence, and where innovation and wealth intertwine with compassionate capitalism at SXSW in 2020 by voting UP and sharing 
http://bit.ly/sxswkyr2020  http://bit.ly/sxswkyredu