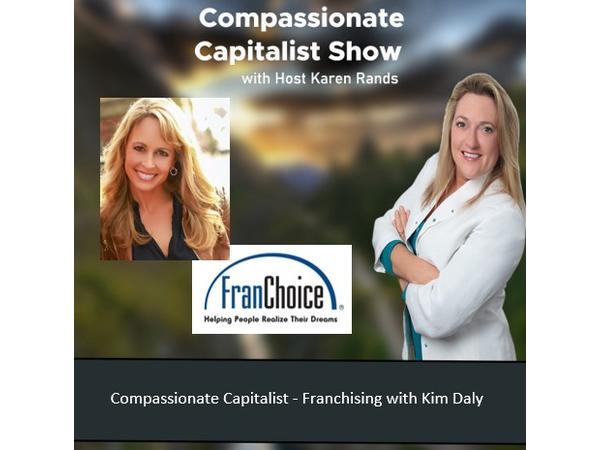 Enjoy The Episode? Leave Us A Review Below (00:42:00)
Franchising is a great concept for normalizing and growing a business concept– Learn about investing, buying, and growing a franchise in this episode of the Compassionate Capitalist Show.  Kim Daly and Karen Rands talk about Franchising as a Pathway to Wealth.  They cover the basics of the variety of industries, costs, benefits and different ways investors can purchase franchises as owner operators or as an alternative way to invest in entrepreneurs and private equity without the risk of investing in startups. 
Kim Daly is one of America's Top Franchise Consultants who has helped thousands of entrepreneurs and investors explore franchise opportunities.  After years as a successful business owner, Kim joined FranChoice to directly help other entrepreneurs find the franchise opportunity that meets their specific interest, experience, and price point.  
Visit http://www.TheDalyCoach.com to learn more and schedule a free consultation. 
Karen Rands is the leader of the Compassionate Capitalist Movement.  For 20+ years Karen has been advising entrepreneurs and investors on how to create wealth by building scalable, sustainable, profitable businesses that bring innovation to market, create jobs in the community and generate wealth for all those involved.   She is the author of the best selling primer for investors:  Inside Secrets to Angel Investing.   To learn more, visit http://KarenRands.co 
Youtube for this show: https://youtu.be/Hy5iNZVy9wc
This 23rd episode on its 14th season:  Compassionate Capitalist – Franchising with Kim Daly.
Please watch or listen,  if you like what you hear comment and rate and please share. 
You can watch/listen to all shows and search on topics of interest at http://karenrands.co/blog