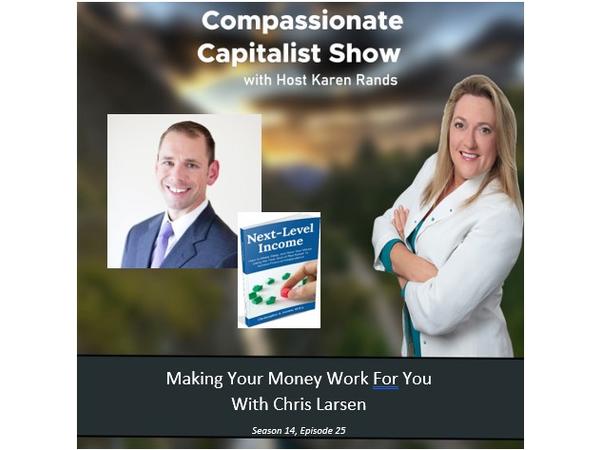 Enjoy The Episode? Leave Us A Review Below (00:44:00)
Chris Larson of Next Level Income joins Karen Rands to talk about building a wealth portfolio that includes real estate and private equity from innovative entrepreneurs - Angel Investing. Karen & Chris discuss how Chris built a substantial real estate portfolio, which includes syndications valued at over $225 Million real estate acquisitions. Chris shares his 'inside secret' for making your money work for you with his 'Infinite Banking' concept to establish a family bank and supercharge investments. Learn what metrics are most important when evaluating investments.
Chris Larsen is the Founder and Managing Partner of Next-Level Income. Chris has been investing in and managing real estate for over 20 years and expanding into development, private-lending, buying distressed debt as well as commercial offices, and ultimately syndicating multifamily properties. In addition to real estate, Chris has invested in equities, oil & gas, done some private small business lending, as well as being an active investor in Venture South, one of the nations top 10 angel investing groups. Chris is the author of the Next Level Income book and host of the Next Level Income podcast (https://www.nextlevelincome.com/podcast)
Get a free copy of his book at https://www.nextlevelincome.com/book
Karen Rands is a top podcaster and speaker focused on creating wealth through building and investing in successful entrepreneur endeavors. She wrote Inside Secrets to Angel Investing and works with angel investors to minimize risk and entrepreneurs to scale their businesses. To learn more visit http://karenrands.co
This podcast is available as a video too: https://youtu.be/kyXioTP9olk
Share this podcast and give it a 5 star review please.
Subscribe to this podcast series so you don't miss the next episode.