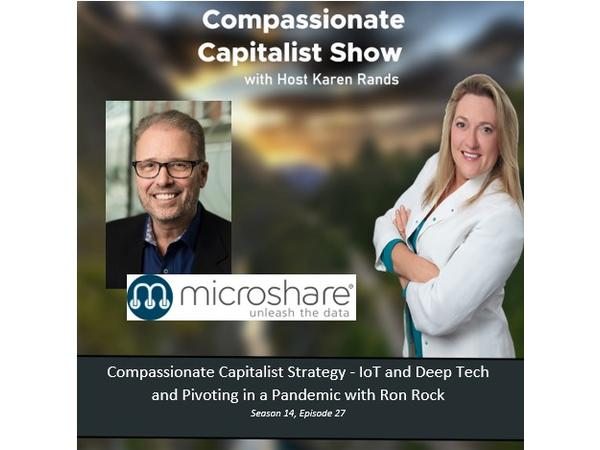 Enjoy The Episode? Leave Us A Review Below (00:46:00)
Few people predicted a global pandemic would be the black swan event of the decade, even a generation.  It has forever changed many business processes, the future of work, and the perception of a company's greatest asset.  The pandemic has taught us a very valuable lesson– people are a companies biggest asset — not the real estate their building or plan it on, not the machinery or trucks they use to make and deliver their products, its the people.
In this episode Karen talks with Ron Rock of Microshare.io about the evolution and benefits of IoT and how Microshare uses LoRaWAN low power, wide-area gateways to solve the greatest need business owners faced during the pandemic- protecting their people and customers from exposure to COVID19.
Before "FOUNDING  Microshare.io, Ron spent about a third of his career with Fortune 500 companies, and the other two thirds with entrepreneurial startups. Microshare.io helps businesses establish new operational models that enable the capturing, tracking, tracing, and story data events and information, while respecting privacy, security and compliance.
Karen Rands is a top podcaster and speaker focused on creating wealth through building and investing in successful entrepreneur endeavors.  She wrote the best selling primer for Angel Investors:  Inside Secrets to Angel Investing.
She helps investors avoid making investments in companies that have fundamental flaws that will limit their ability to exit rich. To learn more about the programs and services that Karen and her team offer to entrepreneurs and investors, visit http://karenrands.co
Please help spread the word about Compassionate Capitalism by subscribing & sharing this video and/or the podcast on your favorite channels
On Youtube: https://youtu.be/6UdjZQTIqGI