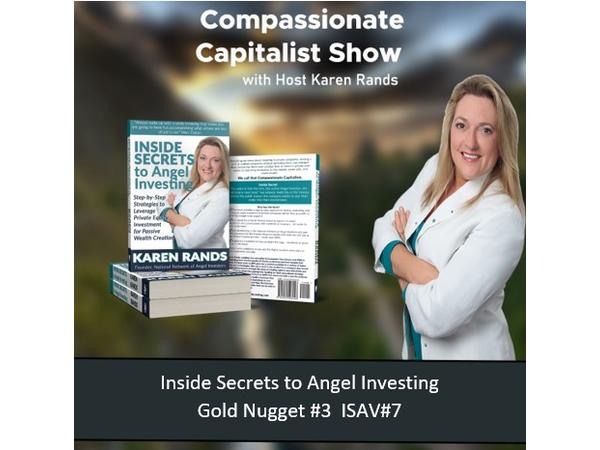 Continuing this video & audio series-- ISAV#3, Karen Rands explains select Inside Secrets of the 44 shared in her best selling financial how-to book for those savvy investors that want to get started or get better at investing in entrepreneurs: Inside Secrets to Angel Investing - Step-by-Step Strategies to Leverage Private Equity Investment for Passive Wealth Creation.  Buy the book: http://bit.ly/AngelInsideSecrets
Get the 12 Inside Secrets eBook Free:  http://InsideSecretstoAngelInvesting.com
In this episode, Karen explains Inside Secret #7 and offers up insights how important it is for an entrepreneur to raise 'friendly money' from family, friends and professional associates.  Aspects of Angel Investing covered are:
1.  Why raising from people the entrepreneur knows first is a litmus test for seasoned investors
2.  Influence of 'Character', Vision, and Commitment on likelihood of an investor risking their capital in an entrepreneur they just met.
To request a meeting with Karen to answer any questions about angel investing, or specific deals you are considering,  please go to http://karenrands.co and complete the contact form.  An email confirmation will be sent to you with a link to her calendar.
To listen to prior episodes and not miss any future episodes of the Compassionate Capitalist Show, visit http://karenrands.co/blog to get links to your preferred podcast player, or go to your podcast app and search for "Karen Rands" and subscribe.
PS Ratings are important in the world of podcast so please give the show a 5* or ThumbsUp / Like / Heart to show your satisfaction.  If you hate a show, and we hope that is never the case, then please let Karen know privately. Over 145,000 people have listened to the Compassionate Capitalist Show.  We are building the Compassionate Capitalist Movement.
Enjoy The Episode? Leave Us A Review Below (00:18:00)