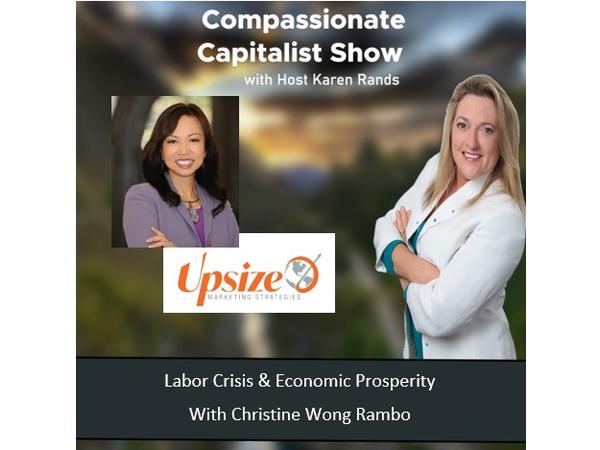 Media attention has been placed on the abundance of jobs and the shortage applicants. Blame is being placed on the American Rescue Plan Act of 2021 with the implication that the $300 supplemental payment is paying American workers to stay home.
Christine Wong Rambo, an internationally certified and recognized economics expert, joins Karen Rands to discuss the quantifiable and measurable factors that are actually contributing to the labor shortage, and the stark reality of what needs to be done to change the directory.  This lively conversation includes discussion on the impact of:
+Census Decline - Population Growth is lowest rate in a generation
+Impact of the 4th Industrial Revolution
+COVID 19 impact on Women's participation in the work force
+Need for mechanical, technical & vocational tech skills
+Need for Infrastructure investment in rural broadband and more
As an award winning, experienced and effective economic development and marketing professional with nearly 30 years of experience, Christine Rambo has a proven record of positioning organizations and communities for growth. Christine is member of International Economic Development Council and a Certified Economic Developer (CEcD). Christine is the President of Upsize Marketing Strategies, http://www.upsizems.com
Karen Rands is a top podcaster and speaker focused on creating wealth through building and investing in successful entrepreneur endeavors. She wrote the best selling primer for Angel Investors:  Inside Secrets to Angel Investing.
To learn more about the programs and services that Karen and her team offer to entrepreneurs and investors, visit http://karenrands.co 
Help spread the word about the Compassionate Capitalist Movement by subscribing & sharing this podcast and/or the video: https://youtu.be/eIlaOJK59AI