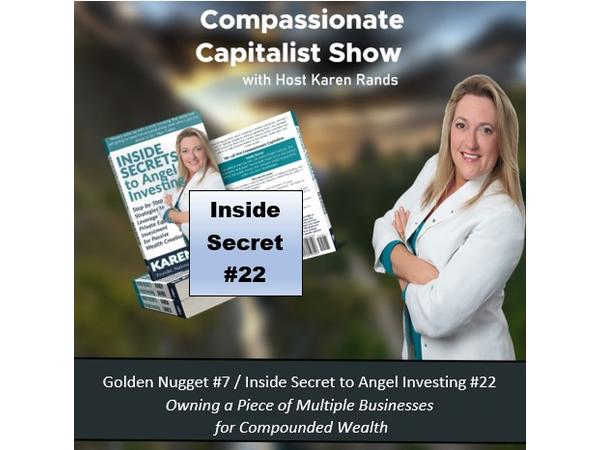 Enjoy The Episode? Leave Us A Review Below (00:08:00)
In this episode of The Compassionate Capitalist Show, Karen explains Inside Secret #22 and how it relates to the 'cashflow quadrant' concept popularized in the Rich Dad, Poor Dad series of books. Listen to why 'owning a piece of multiple businesses' is a wealth creation strategy with compounding effect of time and money.  This concept is fundamental to the idea behind angel investing to start.   Savvy investors put their money to work creating more money and time for themselves, because they are investing in the passion and abilities of entrepreneurs and business owners in exchange for stock equity that grows in value or as a lender that gets a return everytime their principal investment flips and is returned and reborrowed.
As 7th in this limited series, Karen Rands explains select Inside Secrets of the 44 shared in her best selling financial how-to book for those savvy investors that want to get started or get better at investing in entrepreneurs:  Inside Secrets to Angel Investing - Step-by-Step Strategies to Leverage Private Equity Investment for Passive Wealth Creation.   
Buy the book:  http://bit.ly/AngelInsideSecrets and get access to the Investor Resource Portal with documents and tools valued at well over $2000, and entry level membership in National Network of Angel Investors.
Get the 12 Inside Secrets Exerpt eBook Free:  http://InsideSecretstoAngelInvesting.com
To learn more about how Karen helps investors master the art of investing in entrepreneurs visit http://karenrands.co/blog
Please subscribe to the Compassionate Capitalist Show wherever you listen to podcasts.  Share with colleagues and friends.  Please provide a positive review if you have enjoyed this series.
The is also available, as with the other podcasts, as video on youtube:  https://youtu.be/ZVst-tvHrO0