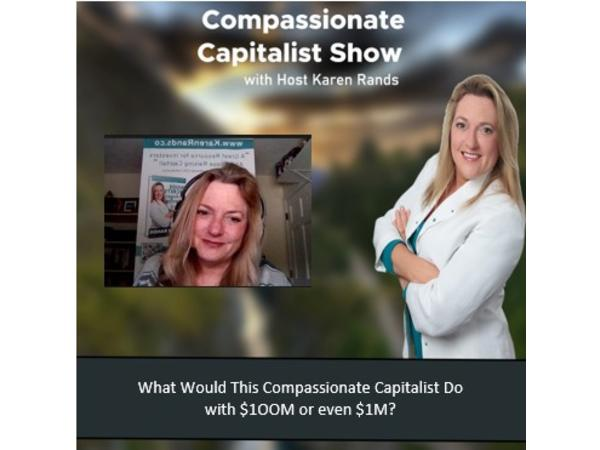 Enjoy The Episode? Leave Us A Review Below (35:26)
How would you answer the question:
What would you do if you were given $100M no questions asked ?
How would you benefit the world with that gift that would compound the impact?
That is what Karen was asked at a recent entrepreneur/investor event she attended.
Well not exactly.  Not the part about benefiting the world or compounding the impact.
That is just how she thinks.
As the founder of the Compassionate Capitalist Movement, it is on her heart to leave a legacy, her 'thumbprint' on the world, that amplifies wealth creation through increasing the available capital actively seeking qualified entrepreneur endeavors to invest in and produce a multiple on that money so that it can be reinvested again and again and again.
In this episode, Karen talks about the Compassionate Capitalist Movement, and the actions she would take, the programs she would create, and types of projects she would lead investment in if she was blessed with such a financial gift (or investment, or sponsorship) whether $100M, $10M, $1M or even $100K.
An investment in her vision for the Compassionate Capitalist Show as the megaphone for the Compassionate Capitalist Movement would accelerate the delivery of education, workshops, deal syndication, and wealth for the entrepreneurs and investors that join.
Referenced in the podcast: ThumbPrint on the World: http://bit.ly/KCHthumb
Land Betterment Corporation: https://bit.ly/CCSBetterment
Vertical Farming Green Eden: https://bit.ly/CCSEden
Get the Book: http://bit.ly/AngelInsideSecrets
Leave a Book Review: https://amzn.to/3HDbIKo
Leave a Reviw or Testimony for Karen: https://bit.ly/KYR-review
Sign up for Karen's video tidbits of wealth: http://bit.ly/CCCB-signup
Watch on Youtube. https://youtu.be/ZUXZ6W31W4g
Karen Rands, is the leader of the Compassionate Capitalist Movement and author of the best selling financial investment primer: Inside Secrets to Angel Investing:  Step-by-Step Strategies to Leverage Private Equity Investment for Passive Wealth Creation.
Did you know that the 'idea of' and the 'how to' create wealth as accredited angel investors by investing in entrepreneurs and owning a piece of multiple private companies was a secret for non-millionaires for over 90 years.  Karen is an authority on creating wealth through investing and building successful businesses that can scale and exit rich.   This podcast is the infomercial for the idea of angel / crowdfund investors as Compassionate Capitalists.
The Compassionate Capitalist Wealth Maximizer System is now available for those investors that want to learn how to invest in entrepreneurs as an asset class like real estate or the stock market. Visit http://Kugarand.com to get your free gift: 12 Inside Secrets to Innovation and Wealth and join the email wait list for the next Free Intro – Wealth Mastery Immersion Challenge 
Already investing? Learn how to hire Kugarand Capital Holdings to identify the red flags of deal before you invest, or find out how to help syndicate your capital raise.
Register at http://DoTheDeal.org
Other Links:  Book, Social Media, Other Podcast Players, Youtube Channel
Visit https://bit.ly/linkCCS