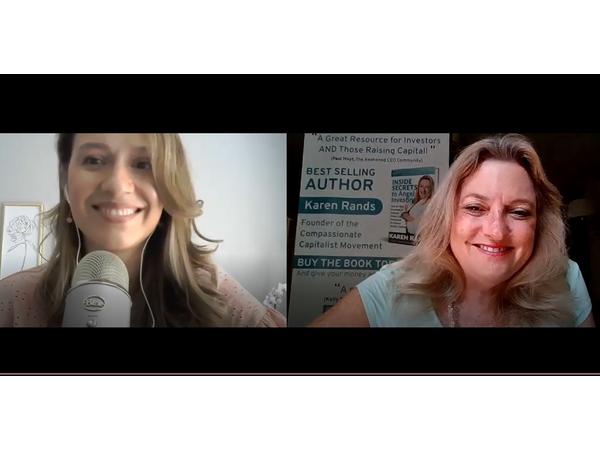 Enjoy The Episode? Leave Us A Review Below (00:45:00)
Stefanie Diaz, Founder of Powered by Verve and Host of She Conquers Capital podcast, joins Karen on this episode of the Compassionate Capitalist show to talk about how women can get started with their own business with confidence and raise the capital they need to succeed as an entrepreneur.   Listen to their dynamic conversation about the importance of understanding your motivation to start a business, overcoming and learning from the objections of potential investors, and getting a seat at the table for wealth creation through successful entrepreneurship.
Stefanie Diaz is an Advisor for Zane Venture Fund and a Co-Chair for the TiE Atlanta Angels Screening Committee. She volunteers her expertise as an Advisor at Atlanta Tech Village and a 4-time mentor at Techsquare Labs' $100k Atlanta Startup Battle. Stefanie has been named Atlanta Startup Wonder Woman by Hypepotamus and listed as one of 39 Atlanta Female Leaders to Follow by Startup Sisters. You can learn more and connect at: https://poweredbyverve.com/
Her podcast, She Conquers Capital, can be found on Apple Podcast and Spotify.
This podcast is also available as a video: https://youtu.be/2KnmeIywG_c
Karen Rands has been named Advocate of the Year for her work to promote Compassionate Capitalism.  She is the author of the best selling primer for investors learning how to invest in entrepreneurs: Inside Secrets to Angel Investing.   She has advised over 100 entrepreneurs on access to capital and has spent 20 years bringing entrepreneurs and investors together to fund innovation and be a catalyst for economic growth.   Learn more and connect at https://karenrands.co 
Subscribe to this podcast on Apple, Stitcher, Tunein, Pandora, Spotify and more.