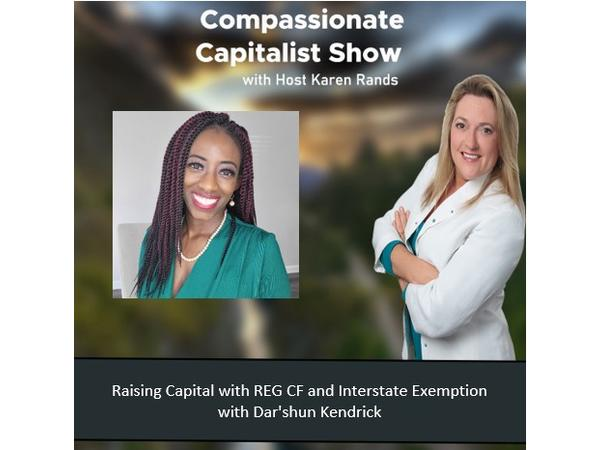 Enjoy The Episode? Leave Us A Review Below (37:35)
This final episode of 2021 for The Compassionate Capitalist Show offers information and encouragement on using Georgia's REG D 504 Crowd Funding Intrastate Exemption from Federal securities regulations for general solicitation and the expanded nationally REG CF crowdfunding capitalization tool.  Startup entrepreneurs and small business owners have methods and tools to legally raise capital from investors at all income levels.
Unfortunately, as you will hear in this lively conversation between Karen Rands and Dar'shun Kendrick, the Invest Georgia Exemption (IGE) arguably one of the simplestways to raise capital, particularly for under represented founders, yet is considered 'a best kept secret'. Dar'shun explains the opportunity and challenges for black and women founders addressed with these regulatory exemptions of how and who you raise capital from to start and grow your business. Karen shares how exciting IGE and REG CF are for investors to participate in the entrepreneurial success of those small businesses in their community even when they don't have 6 figures, hundreds of thousands of dollars, to invest.
These programs are the foundation for the democratization of the capital markets and the Compassionate Capitalist Movement.
Dar'shun Kendrick, JD/MBA/Investment Adviser Representative is the Founder of Kendrick Advisory & Advocacy Group (KAAG). They help companies raising investor capital focus on growing their company by handling all the regulatory aspects. KAAG has helped companies raise over $1B in capital, while saving companies millions in unnecessary fees and costs. KAAG emphasizes their work with black and women founders to meet their unique capital raising challenges and needs. More info http://kaag.co
Karen Rands, is the leader of the Compassionate Capitalist Movement and author of the best selling financial investment primer: Inside Secrets to Angel Investing:  Step-by-Step Strategies to Leverage Private Equity Investment for Passive Wealth Creation.
Did you know that the 'idea of' and the 'how to' create wealth as accredited angel investors by investing in entrepreneurs and owning a piece of multiple private companies was a secret for non-millionaires for over 90 years.  Karen is an authority on creating wealth through investing and building successful businesses that can scale and exit rich.   This podcast is the infomercial for the idea of angel / crowdfund investors as Compassionate Capitalists.
The Compassionate Capitalist Wealth Maximizer System is now available for those investors that want to learn how to invest in entrepreneurs as an asset class like real estate or the stock market. Visit http://Kugarand.com to get your free gift: 12 Inside Secrets to Innovation and Wealth and join the email wait list for the next Free Intro – Wealth Mastery Immersion Challenge 
Already investing? Learn how to hire Kugarand Capital Holdings to identify the red flags of deal before you invest, or find out how to help syndicate your capital raise.
Register at http://DoThe Deal.org
Other Links:  Book, Social Media, Other Podcast Players, Youtube Channel
Visit https://bit.ly/linkCCS